Providence College And City of Providence Recreation Department will Partner for Junior Friars Program
Page Image Providence College And City of Providence Recreation Department will Partner for Junior Friars Program
For Immediate Release: December 7, 2015
PC will Donate Tickets for City Students to Attend Friar Athletic Events; PC Student-Athletes will Volunteer as Hosts, Encourage Students to Focus on Their Studies and Think About Attending College. 
Providence, R.I. – Providence College and the City of Providence today announced a new partnership between the College and the City's Department of Recreation that will allow City students who participate in Providence Recreation programs to attend select Providence College athletic events free of charge and spend time on the College's Elmhurst campus meeting with PC student-athletes.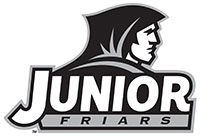 The program, known as the Junior Friars initiative, began last month with fifteen Providence Recreation participants attending the PC Women's Hockey game vs. the University of New Hampshire on Saturday, November 7th. It will continue with six additional events through April 2016. Providence Recreation participants will attend a variety of Providence College athletic contests including Men's and Women's Basketball games and Men's Lacrosse games. Tickets for these games are being donated to the Providence Recreation Department by the College.
PC's student-athletes have embraced the program, led by the College's Student-Athlete Advisory Committee (SAAC). SAAC is coordinating a schedule of student-athletes who will volunteer to serve as hosts for each game attended by the Providence Recreation participants. The student-athletes will greet the City students when they arrive on campus, spend time talking with them before each game to emphasize the importance of hard work across academics as well as athletics, and encourage them to make good choices and set their sights on going to college once they graduate from high school.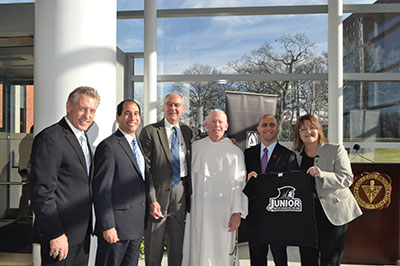 Photo from left to right: Robert Driscoll, Associate Vice President of PC Athletics; Providence Councilman David Salvatore; Providence Councilman Terrence Hassett; Rev. Brian J. Shanley, O.P., President of PC; Providence Mayor Jorge Elorza; and Councilwoman Jo-Ann Ryan
"Many students from urban areas do not have their sights set on attending college," said PC President Rev. Brian J. Shanley, O.P. "By providing an opportunity for these City of Providence students to visit our campus and spend time talking with our student-athletes, we hope we will be able to convince them of the importance of focusing on their academics as well as their athletic opportunities, and plant the seed for them to begin thinking seriously about attending college once they graduate from high school."
"Through the Junior Friars program, our students will get to see some of the best college athletes in the country play while they learn what it takes to be a collegiate athlete off the court," said Mayor Elorza. "I want to thank Providence College Athletics for teaming up with the City to provide the youth the opportunity to see the importance of not only athletic success, but also academic success."
"We are proud to provide an opportunity for these students to visit Providence College and to see our student-athletes in action," said Providence College Athletic Director Robert G. Driscoll. "It is important for these young men and women to meet some positive roles models who can share their experiences as well as speak about the dedication that is required to succeed at the next level. That level of focus and discipline is true in academics as well as out on the practice and playing fields."
"It is great to see these college students demonstrate how much time and effort is put in to becoming a successful student-athlete," said Providence Director of Recreation Mike Stephens. "The children will be able to see what it takes to be part of a nationally recognized athletic program, both on and off the court."
"The Student-Athlete Advisory Committee is extremely enthusiastic about participating in this program," said Brendan Sullivan, '16, a Men's Cross-Country runner and SACC President.  "While community service and volunteerism are a big part of life on our campus, some of those opportunities do not involve personal interaction with younger students. Those are the programs which my fellow student-athletes enjoy the most, and we are happy to work with the Providence Recreation participants through this effort."
One of the athletic events chosen for this program is the Men's Basketball game vs. Bryant University on Saturday, December 12th at noon at the Dunkin' Donuts Center. PC will donate one hundred (100) tickets to the Providence Recreation Department for that event, and the College-City partnership will be recognized in an on-court ceremony during the game.