Providence College School of Business Students Take Top Prize at National Ethics Competition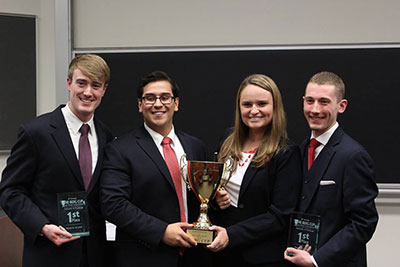 Providence, R.I. – A team of four students from the Providence College School of Business (PCSB) took first place for their analysis and solution in the 8th Annual Berg Cup Competition, a nationally known ethics case study competition held each spring term at the University of Pittsburgh (March 18-19, 2016).
"PCSB was able to support our students' participation in this competition thanks to our recently inaugurated Program on Ethics in Business Education," said Dr. Sylvia Maxfield, dean of PCSB. "I am so pleased and proud of their success and grateful to the donor whose endowment gift provides critical resources for ethics education."
The following undergraduate students were members of the PC team: Connor Barrett '16 (Malverne, N.Y.), Cristian Higuita Montoya '16 (Greenville, S.C.), Kristin Michels '16 (Eastchester, N.Y.), and Benjamin Swiszcz '16 (Cumberland, RI).
The case they analyzed presented a hypothetical business ethics scenario involving a pharmaceutical company and the recent outbreak of the Zika virus. They were tasked with coming up with a viable business approach to the Zika virus that incorporated ethical, financial, and general business considerations. Their solutions had to be presented to a panel of judges in both the semifinal and final rounds of the competition.
"Our success was truly a team effort, and we found that our four years of business education deeply rooted in the liberal arts was invaluable in a competition that required us to synthesize ethical and financial considerations," said Swiszcz. "We are thankful for the support of the entire Providence College School of Business and are especially appreciative of the encouragement we received from Dr. Patrick Kelly and Assistant Dean Jacqueline Elcik."
The Berg Cup involves undergraduate business students from across the country who compete for a cash prize and the recognition of having their school's name engraved upon the prestigious Berg Cup trophy. The competition is hosted and administered by the University of Pittsburgh Chapter of Phi Beta Lambda, its College of Business Administration, and the David Berg Center for Ethics and Leadership.