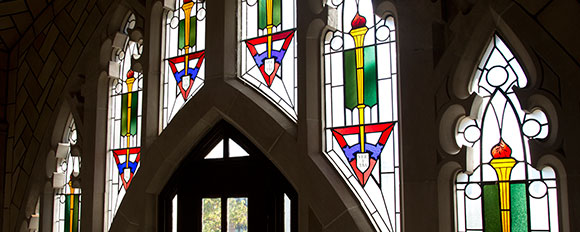 Economic Impact Study
Providence College – Summary of Economic Impact – March 2015
The information on this page, as well as the specific information available via the links at left, provides a snapshot summary of Providence College's economic impact on the city of Providence and the state of Rhode Island for fiscal year 2014.
The College's Office of Public Affairs, Community & Government Relations, compiled the information for this snapshot, as opposed to hiring an outside consultant to do so. The College used no multipliers for any portion of the study, meaning that our figures are likely conservative in nature.
The College used hard numbers whenever they were available. In cases where estimates are noted, the College employed what we believed to be a reasonable and conservative methodology to arrive at the estimated number. The link at left ("Methodology") details the methodology used.
A few highlights from the summary:
With over 850 full-time employees, Providence College is one of the ten largest employers in the city of Providence and among the 50 largest employers statewide.
Providence College generates annually over $62 million in employee salary and benefit payments to the State of Rhode Island, pays approximately $3.5 million in state tax collections, and invests some $3.3 million in college student employment.
In the city of Providence, PC generates $18.9 million in employee salary and benefit payments and invests $3.3 million in scholarships and financial aid.
In FY2014, Providence College contributed almost $200 million to the state of Rhode Island and city of Providence economies.
PC also imported almost $27 million into the City in direct spending by its students, parents, alumni, prospective students and their families, members of its board of trustees and visiting athletic teams.
The city of Providence received $2.23 million from the State of Rhode Island Payment in Lieu of Taxes (PILOT) program in recognition of PC's tax-exempt property. In addition, the College provided another $588,000 in voluntary payments. That is over $2.8 million that would be lost revenue to the City if the College's campus were to be replaced by residential properties.
In FY 2013-2014, PC students contributed over 55,000 community service hours assisting over 150 different social service agencies, community groups, public, private and charter schools, and city government offices.
All figures in this summary are FY2014 unless otherwise indicated